RESIDENTIAL BUILDING MATERIAL JOBSITE DELIVERY ESTIMATING AND TAKEOFF GUIDE
The guide consists of the following and much more...
SUB SYSTEM DELIVERY MATERIAL COMPONENTS LISTED IN ORDER OF USE.

INCLUDES MOST COMMONLY USED MATERIAL TYPES & SIZES.

WRITTEN ESTIMATING METHODS & FORMULAS WITH DEFINITIONS & WASTE FACTORS.

PICTURE ILLUSTRATIONS OF STEP BY STEP RESIDENTIAL CONSTRUCTION PROCESS.

ABBREVIATED WASTE FACTORED JOBSITE DELIVERY FORMULAS.

LOCATING TAKEOFF DIMENSIONS FROM PLANS, USING COLOR CODED ILLUSTRATION BLUEPRINTS.

STEP BY STEP INSTRUCTIONS FOR USING VARIOUS PLAN TYPE WORKSHEETS.

DIMENSION FORMS & WORKSHEETS FOR ALL RESIDENTIAL PLAN TYPES.
---

This must have guide shows user how to convert takeoff dimensions from blueprints, to a detailed itemized quantity takeoff list in waste factored delivery order quantities. Covers all lumber and building material items that require estimating formulas, math calculations, and math conversions. Methods and formulas used has been field tested, and adjusted for accuracy, from actual job-site deliveries that the supplier has to make, saving the builder, and supplier valuable time and human resources. Lists sub system material components and definitions (floor, wall, roof, etc.) in order of use as the home is being constructed, with a listing of the most commonly used material types and material sizes. Put yourself on the job site as the home is being built with step by step photos and illustrations.

The guide consists of 100, 8-1/2" X 11" pages, as well as over 100 illustrations, photos, and charts. Book has a color-coded set of working drawings provided. Includes step by step instructions to easily read blueprints, and where to locate linear feet and square footages required. Then you enter the takeoff dimensions to various plan type worksheets. Worksheets for all residential home plan types are included with the estimating and takeoff guide.
---

The Takeoff guide comes in an online version (Adobe Acrobat .pdf) in which you can download, print and view from personal computer or you may mail order it in a spiral bound printed version.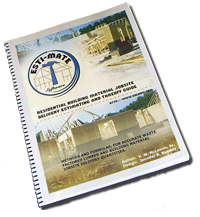 How to Order:
The manual can be ordered online through PayPal's secure server by simply clicking the Buy Now button below from the version of your choice.
You may also order the manual by calling us toll-free at 1-800-244-6945. We can process your credit card over the phone.
Fill out our order form and we will process your order online.
TAKEOFF GUIDE - .pdf DOWNLOAD
Only $19.95 FREE web based email accounts are NOT recommended due to constantly changing relay and spam restrictions.
Once we receive payment we will send you the appropriate link so that you may download the file. The file is 40 MEGS. You must have

Adobe Acrobat reader to view, print and read the file from your Personal Computer. You may download the Reader from Adobe at no charge. Click the icon to begin downloading.
The pdf version of our takeoff guide may also be ordered on CD for $24.95.

TAKEOFF GUIDE - SPIRAL BOUND
Only $29.95
Once your order has been processed, we will ship your manual usually on the same day. Please allow us time for snail-mail. :) The Printed Guide is now available for immediate shipment. The Printed version has a color-coded foundation, floor, and elevation plan of working drawings. Includes step by step instructions to easily read blueprints, and to find dimensions required for estimating methods and formulas. Worksheets for all home plan types are included with the Estimating and Takeoff Guide. Coil bound to stay flat when using, and easier to make copies of various plan type worksheets when needed. Available exclusively online from Esti-Mate, Inc.
ISBN 1-55395-526-9
---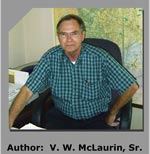 COMPILED AND WRITTEN BY V.W. MCLAURIN, SR., WITH 40 YEARS EXPERIENCE AS A RESIDENTIAL CONTRACTOR FIELD SALES REPRESENTATIVE AND LICENSED GENERAL CONTRACTOR. THIS MANUAL IS DEDICATED TO MY FAMILY, AND IN LOVING MEMORY OF MY SON ROBERT MARK MCLAURIN. WHO AFTER TWO BRAIN SURGERIES, SIX WEEKS OF RADIATION TREATMENTS, AND NUMEROUS MONTHS OF CHEMOTHERAPY TREATMENT, WROTE THESE QUOTES ON MY BUSINESS CARD, THAT I CARRY WITH ME EVERYDAY. I HOPE IT TOUCHES YOUR LIFE AS IT HAS MINE.
"DO WHAT YOU DON'T WANT TO DO FIRST."
"WHAT YOU THINK ABOUT BRING ABOUT."
"ALWAYS HAVE A GOAL."
" IT'S NOT WHAT HAPPENS TO YOU BUT HOW YOU TAKE IT."